特种油脂应用范围及发展前景的可研报告
Feasibility report on application scope and development prospect of special oils and fats
第一节特种油脂的简介
特种油脂人造奶油从发明至今已有一百多年的历史。19世纪后期,普法战争期间,由于当时欧洲奶油供应不足,法国拿破仑三世悬赏招募,号召制造奶油的代用品。法国化学家梅吉。穆里斯于1869年制成的奶油油获法国、英国专利。由于这种新产品的组成、外观都与奶油十分相似,故称为"人造奶油",它还有一名"麦淇淋",是英文"Margarine"的音译。(可研报告)
Section 1 Introduction to special oils and fats
Special oil like margarine, have more than a hundred years of history from the invention. In the late 19th century, during the Franco-Prussian War, Napoleon III of France offered a bounty to recruit a substitute for the cream that was in short supply in Europe. Meggie, French chemist. The cream oil made by Mullis in 1869 was patented in France and England. As the new product resembles butter in both its composition and appearance, it is called "Margarine," as well as "margarine," which is a transliteration of the English word margarine. (Feasibility study report)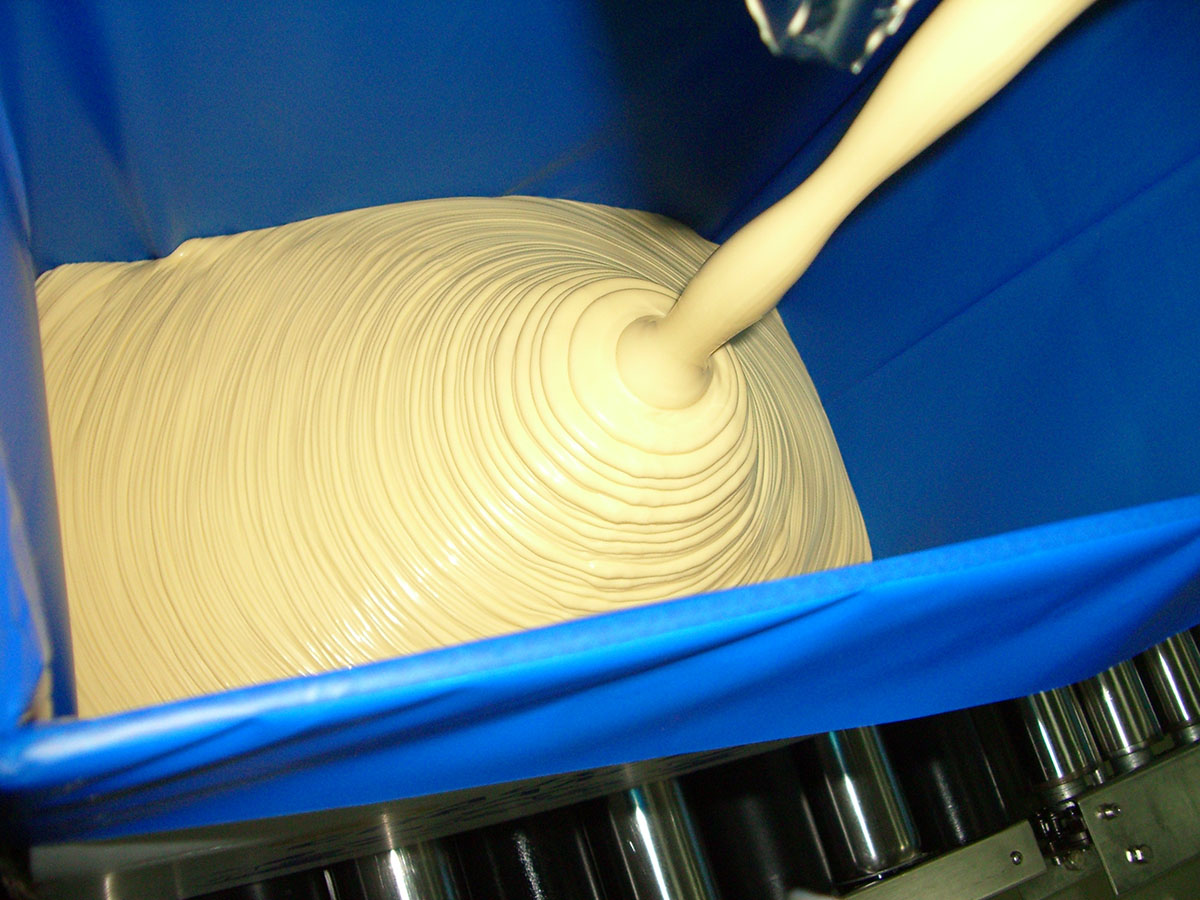 第二节特种油脂的生产工艺
Section 2 Production technology of special oils and fats
(一)生产工艺 Production flow chart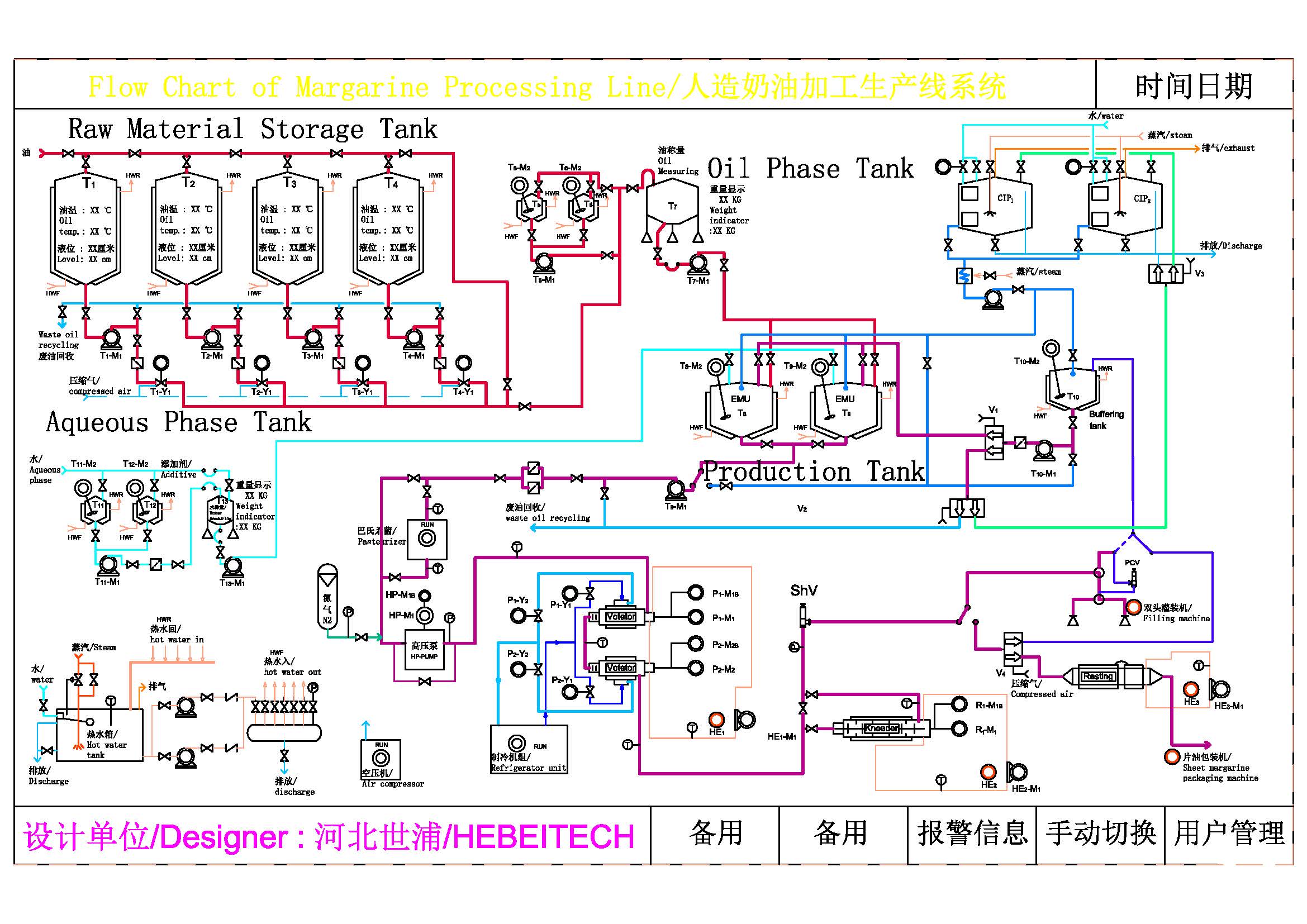 1.人造奶油生产工艺 Process of margarine
油相+水相→乳化→巴氏杀菌→急冷→捏合→人造奶油
Oil phase + water phase→Emulsification→Pasteurizing→Quenching→Kneading→Margarine
2.起酥油生产工艺 Process of shortening
基料油→(乳化)→急冷→捏合→起酥油
Base oil→Emulsification→Quenching→Kneading→Shortening
3.代可可脂生产工艺 Process of cocoa butter replacer
氢化基料油→急冷→捏合→代可可脂
Hydrogenation base oil→Quenching→Kneading→Cocoa butter replacer
乳化罐(人造奶油、起酥油〕、高压泵、急冷机、捏合机、背压阀、休止管(酥皮油)
Emulsification tank (margarine & shortening), HP pump, votator, pin rotor machine, back pressure valve, rest tube (table margarine)
第三节  特种油脂的应用范围 Application of special oil
(一)乳化剂 Emulsifying agent
众所周知油、水是不相溶的,而我们的人造奶油是由油和水为主要原料生产的,二者之所以能很好的结合则是乳化剂的乳化作用所致。常用的乳化剂有以下几种:
As we all know, oil and water are insoluble, and our margarine is produced by oil and water as the main raw materials, the two can be very good combination is caused by the emulsification of emulsifier. Commonly used emulsifiers are as follows:
1.单甘酯 monoglyceride
单甘酯是目前应用最广泛的乳化剂,是由甘油和油脂反应制得。产品有粉状、颗粒状或糊状,按其纯度可分为蒸馏单甘酯(纯度40-50%)和未蒸馏单甘酯(纯度90%以上)。不溶于水,可溶于油脂(80℃以上)。贮存时注意密封保存。
Monoglyceride is the most widely used emulsifier, which is prepared by the reaction of glycerol and oil. Products in powder, granular or paste, according to its purity can be divided into distilled monoglyceride (purity 40-50%) and undistilled monoglyceride (purity more than 90%). Insoluble in water, soluble in grease (above 80℃). Keep it sealed when storing.
2.卵磷脂 Lecithin
卵磷脂最初取自蛋黄,但由于其成本高且易腐败,生产中用大豆磷脂代用卵磷脂。大豆磷脂是大豆水化脱胶的副产品,主要成分为卵磷脂、脑磷脂及肌醇磷脂。精制后呈半透明的粘稠液,在空气中或光线照射下迅速变黄,并逐渐成不透明的褐色。不溶于水,有较好的油溶性及乳化性,是良好的天然乳化剂。卵磷脂添加到人造奶油或起酥油中可增强稳定性,增加食品风味,还可防止烹调时溅油,贮存时应遮光、密封。
Lecithin was originally derived from egg yolks, but because of its high cost and perishable nature, soy lecithin was used instead in production. Soybean phospholipid is a by-product of soybean hydration degumming. Its main components are lecithin, lecithin and inositol phospholipid. A translucent viscous liquid that turns yellow quickly in air or light and becomes an opaque brown. Insoluble in water, good oil solubility and emulsification, is a good natural emulsifier. Lecithin added to margarine or shortening can enhance stability, increase food flavor, but also to prevent oil splashing during cooking, storage should be shading, sealed.
3.蔗糖酯 Sucrose ester
蔗糖酯是一种高效而安全的表面活性剂,由蔗糖与脂肪酸反应制得,易溶于水,难溶于油,120℃下稳定,145℃以上会分解。蔗糖酯与单甘酯并用可作人造奶油的乳化剂,对面包、蛋糕有抗老化作用。
Sucrose ester is a kind of efficient and safe surfactant, prepared by the reaction of sucrose and fatty acid, soluble in water, but not soluble in oil, stable at 120℃, will decompose above 145℃. Sucrose ester and monoglyceride can be used as emulsifier of margarine, which has anti-aging effect on bread and cake.
4.SPAN(司盘 /失水山梨醇脂肪酸酯Sorbitol fatty acid ester)
失水山梨醇脂肪酸酯是由山梨糖醇与脂肪酸反应制得的一类物质,其中我司常用的有SPAN60、SPAN65两种。SPAN60熔点52-54℃,酸值5-10,SPAN65则分别是55-57℃、12-15,二者碘值均小于2。白色或黄白色,热稳定性好,难溶于水,加热易溶于油脂。最大特性是对油脂结构有稳定作用,可使急冷后的油脂稳定在β′晶体结构。
Sorbitol fatty acid ester is a kind of substance prepared by the reaction of sorbitol and fatty acid, among which SPAN60 and SPAN65 are commonly used by our company. The melting point of SPAN60 is 52-54℃, the acid value is 5-10, and the acid value of SPAN65 is 55-57℃ and 12-15 respectively, and the iodine value of both is less than 2. White or yellowish white, good thermal stability, difficult to dissolve in water, easy to dissolve in oil when heated. The most important characteristic is to stabilize the grease structure, which can make the grease stable in β 'crystal structure after quenching.
(二)抗氧化剂 Antioxidant
氧化是导致人造奶油、起酥油品质劣化的重要因素,防止氧化,除了考虑选用原料、加工方法、包装及贮存条件外,还可添加一些安全性高、效果显著的抗氧化剂。抗氧化剂的效果与油脂的种类、精炼程度、FFA的含量、铜铁离子、水分、光线、接触空气及温度有关。我司常用的抗氧化剂如下:
Oxidation is an important factor leading to the deterioration of the quality of margarine and shortening. To prevent oxidation, in addition to considering the selection of raw materials, processing methods, packaging and storage conditions, some safe and effective antioxidants can also be added. The effect of antioxidants depends on the type of oil, degree of refining, FFA content, copper and iron ions, moisture, light, exposure to air, and temperature. Our commonly used antioxidants are as follows:
1.BHA (丁基羟基茴香醚)
白色或微黄色蜡状结晶粉末,有特异的酚类臭味和刺激性气味,熔点57-65℃,不溶于水,25℃油中溶解度30-40%,热稳定性好,弱碱下不易被破坏,可用与培烤食品,抗菌能力强。BHA和其它抗氧化剂混合使用,或与增效剂柠檬酸并用,抗氧化效果更好。油脂中最大用量0.2g/Kg,人造奶油中0.1g/Kg。
White or yellowish waxy crystalline powder, with special phenolic odor and pungent odor, melting point 57-65℃, insoluble in water, 25℃ oil solubility 30-40%, good thermal stability, weak alkali is not easy to be destroyed, can be used with baking food, strong antibacterial ability. BHA is even more effective when used in combination with other antioxidants or with citric acid, a synergist. The maximum dosage is 0.2g/Kg in grease and 0.1g/Kg in margarine.
2.BHT(丁二基羟基甲苯)
白色结晶或粉末,无味,无臭,熔点69.5-70.5℃,沸点265℃,不溶于水,25℃豆油中可溶30%、棉油中20%,40℃猪油中40%,热稳定性好,具升华性,无BHA的异臭,价格低廉,毒性相对BHA高,抗氧化能力强.油脂中最大用量0.2g/Kg,人造奶油中0.1g/Kg,与BHA、柠檬酸合用以"BHT:BHA:柠檬酸=2:2:1"比例为佳。
White crystal or powder, tasteless, odorless, melting point 69.5-70.5℃, boiling point 265℃, insoluble in water, 25℃ soybean oil soluble 30%, cotton oil 20%, 40℃ lard 40%, good thermal stability, sublimation, no BHA heteroodor, low price, toxicity relative to BHA high antioxidant ability. The maximum dosage of fat is 0.2g/Kg, margarine is 0.1g/Kg, and the ratio of BHT: BHA: citric acid = 2:2:1 is the best when combined with BHA and citric acid.
3.TBHQ〔特丁基对苯二酚)
一种新型抗氧化剂,抗氧化效果比BHA、BHT好,最大特点Fe离子存在下不着色。TBHQ添加到油中不会产生异味或异臭,油溶性良好,熔点126.5-128.5℃,可单独使用,也可与BHT、BHA混用,油中最大添加量0.02%。
A new type of antioxidant, the antioxidant effect is better than BHA, BHT, the biggest characteristic of Fe ion in the presence of no coloring. TBHQ will not produce odor or heteroodor when added to oil, and the oil has good solubility. The melting point is 126.5-128.5℃. It can be used alone or mixed with BHT and BHA, and the maximum added amount in oil is 0.02%.
(三)增效剂—柠檬酸 Synergist-citric acid
两种或两种以上抗氧化剂混合使用,或与增效剂并用,往往比单独一种使用效果显著,此种现象称为增效作用。在植物油中使用酚型抗氧化剂,若同时添加柠檬酸,其抗氧化效果将显著提高。一般认为柠檬酸能和促进氧化反应的微量金属离子(Cu2+、Fe3+)生成螯合物,从而对促进氧化的金属离子起钝化作用。增效剂的用量一般是酚型抗氧化剂的1/4-1/2。
A combination of two or more antioxidants, or a synergist, is often more effective than one alone, a phenomenon known as synergism. If citric acid is added to vegetable oil, the antioxidant effect of phenolic antioxidants will be significantly improved. It is generally believed that citric acid can form chelates with trace metal ions (Cu2+, Fe3+) that promote oxidation, thus passivating metal ions that promote oxidation. The dosage of the synergist is generally 1/4-1/2 of that of the phenolic antioxidant.
(四)防腐剂 Preservative
人造奶油中的水,尤其是水相中的一些物质(如乳清粉),特别容易引起微生物的繁殖和生长。防腐剂则是具有杀死微生物或抑制微生物繁殖的物质。
The water in margarine, especially some substances in the water phase (such as whey powder), are particularly prone to microbial reproduction and growth. Preservatives are substances that kill microorganisms or inhibit their reproduction.
1.盐 Salt
盐既是调味剂又是优良的防腐剂,盐的贮存要注意防止受污染和防潮。
Salt is both a flavoring agent and an excellent preservative. Salt storage should be careful to prevent contamination and moisture-proof.
2.山梨酸钾 Potassium sorbate
无色或白色鳞片状结晶或粉末,无臭或稍有臭味,在空气中不稳定,可被氧化着色,有吸湿性,易溶于水,对霉菌、酵母及好气性菌均有抑制作用,属酸性防腐剂,宜在PH值5-6以下范围内使用。贮存时注意防潮、密封。
Colorless or white scaly crystals or powder, odorless or slightly smelly, unstable in the air, can be colored by oxidation, hygroscopic, easily soluble in water, has an inhibitory effect on mold, yeast and aerostatic bacteria, is an acidic preservative, should be used in the PH value of 5-6 below the range. Pay attention to moisture-proof and sealing when storing.
(五)色素 Pigment
1.β-胡萝卜素 Beta carotene
β-胡萝卜素为理想的天然色素,具价格低、有营养、色调稳定等优点。红紫色至暗红色的结晶粉末,稍有异臭,不溶于水和甘油,难溶于乙醇、丙酮,240℃在植物油中溶解度为0.05-0.10%。β-胡萝卜素对光和氧均不稳定,遇重金属离子(如Fe3+)颜色变浅。贮存时要置于阴凉处,并注意遮光、密闭。
β-carotene is an ideal natural pigment, which has the advantages of low price, nutrition and color stability. Reddish purple to dark red crystalline powder, slightly heteroodor, insoluble in water and glycerol, insoluble in ethanol, acetone, solubility of 0.05-0.10% in vegetable oil at 240℃. Beta-carotene is unstable to both light and oxygen and becomes lighter in color when exposed to heavy metal ions such as Fe3+. Storage should be placed in a cool place, and pay attention to shading, airtight.
2.胭脂红 Carmine
红色或深红色粉末,无臭,溶于水呈红色,不溶于油,耐光性、耐酸性好,耐热性、耐还原性、耐细菌性差,遇碱变褐色。吸湿性强,宜贮存于干燥、阴凉处,长期保存,应注意密封、防潮、防变质。
Red or dark red powder, odorless, red in water, insoluble in oil, light resistance, good acid resistance, heat resistance, reducing resistance, poor bacterial resistance, alkali turn brown. Strong hygroscopic property, should be stored in dry, cool place, long-term storage, should pay attention to seal, moisture-proof, anti-deterioration.
3.柠檬黄 Lemon yellow
橙黄色粉末,无臭,0.1%水溶液呈黄色,不溶于油脂,耐热性、耐酸性、耐盐性均好,耐氧性、耐碱性差,遇碱变红色。贮存注意事项同胭脂红。
Orange yellow powder, odorless, 0.1% water solution yellow, insoluble in oil, heat resistance, acid resistance, salt resistance are good, oxygen resistance, alkali resistance is poor, turn red when alkali. Storage precautions are the same as carmine.
(六)风味添加剂 Flavor agent
1.香精 Perfume
食用香精是用各种安全性高的香料和稀释剂等调和而成,可分为油溶性和水溶性两大类。大多以澄清、透明液存在,但以精炼植物油为稀释剂的油溶性香精低温时会出现冷凝现象。所有香精都有一定的挥发性,贮存时要注意置于阴凉处(10-30℃为宜),并注意防晒、防潮、防火。香精启封后,不宜继续贮存,最好尽量用完。热敏性物料,使用时注意投入时间,并要注意使其在物料中均匀分布。
Food flavor is made of a variety of spices and diluents with high safety, which can be divided into two categories: oil soluble and water soluble. Most of them exist in clear and transparent liquid, but the oil soluble essence with refined vegetable oil as diluent will condense at low temperature. All flavors have a certain volatility, storage should pay attention to be placed in a cool place (10-30℃ is appropriate), and pay attention to sunscreen, moisture-proof, fire prevention. Flavor after opening, should not continue to store, it is best to use up. Heat sensitive material, pay attention to the input time, and pay attention to make it evenly distributed in the material.
2.盐 Salt
如前所述盐既是防腐剂,又是风味调节剂。其既具有防腐作用,又具有使奶油具有咸味。冬季原料油脂的熔点较低,食盐添加量少;夏季原料油脂的熔点较高,食盐添加量较多。食盐的贮存要注意防潮。
As mentioned before, salt is both a preservative and a flavor regulator. It has the function of preservative, but also has the function of making the cream salty. In winter, the melting point of raw oil is lower and the amount of salt added is less. In summer, the melting point of raw oil is higher and the amount of salt is more. Salt should be stored against moisture.
3.乳清粉 Whey mist
在人造奶油中添加乳清粉是为了增加其风味性。乳清粉的主要成分是蛋白质,其具有一定条件下易变性且不可逆的特性,在贮存和使用中要尤其注意。具体影响因素如下:
Whey powder is added to margarine to enhance its flavor. The main component of whey powder is protein, which is changeable and irreversible under certain conditions. Special attention should be paid to it in storage and use. Specific influencing factors are as follows:
(1)化学因素:酸、碱、有机溶剂、重金属盐类、表面活性剂等。
(2)物理因素:加热(高温)、紫外线、超声波、强烈的搅拌、振荡、挤压、各种射线。
(1) Chemical factors: acid, base, organic solvent, heavy metal salts, surfactants, etc.
(2) Physical factors: heating (high temperature), ultraviolet, ultrasonic, intense agitation, oscillation, extrusion, various rays.
4.乳脂 Butterfat
乳脂是天然的奶油,为了增加人造奶油的营养和风味而添加。低温、阴凉、干燥处存放。
Butterfat is natural cream, added to increase the nutrition and flavor of margarine. Store in a cool, cool and dry place.
(七)消泡剂――乳化硅油 Deformer-Silicone emulsion
在食品煎炸生产中,有时会产生大量的泡沫,若不及时消泡,则油或泡沫会从容器中溢出,妨碍操作,甚至造成生产事故。我司生产的"KFC"煎炸油中添加乳化硅油,就是利用了它的消泡作用。
乳化硅油为乳白色油状液体,其粘度受温度影响不大,不燃,在空气中不挥发、性质稳定,无毒,无臭,可溶于水。
In the production of food frying, sometimes there will be a lot of foam, if not timely defoaming, the oil or foam will overflow from the container, hinder the operation, and even cause production accidents. Emulsified silicone oil is added to the "KFC" frying oil produced by our company, which makes use of its defoaming effect.
Emulsified silicone oil is milky white oil liquid, its viscosity is not affected by temperature, non-flammable, non-volatile in the air, stable property, non-toxic, odorless, soluble in water.
第四节  特种油脂行业的发展前景 Development prospect of special oil industry
我国特种油品市场发展迅速,为与汽车配套使用的消费品,润滑油已经逐步转变为普通消费用品。现在随着机械化水平的提高,润滑油行业发展也随之兴起。机械化的程度越高,润滑油的使用率就越高,前景一片光明,润滑油产业市场发展将趋稳增长。
我国特种油品行业需发挥雄厚科研技术力量优势,把握国际发展趋势,不断完善相关特种油品相关标准,例如我国电力行业很少执行SH0040-91超高压变压器油标准,大部分采用符合国际标准的进口油。我国特种油品企业将会面对广阔的市场需求,迎来更好的机遇。
The special oil market is developing rapidly. For the consumer goods used with automobiles, lubricating oil has been gradually transformed into common consumer products. Now with the improvement of mechanization level, the development of lubricating oil industry is also rising. The higher the degree of mechanization, the higher the utilization rate of lubricating oil, the prospect is bright, the development of lubricating oil industry market will be stable growth.
China's special oil industry needs to give full play to the advantages of strong scientific research and technology, grasp the international development trend, and constantly improve the relevant standards of special oil products. For example, China's electric power industry rarely implements SH0040-91 ultra-high voltage transformer oil standards, and most of them adopt imported oil that meets international standards. Chinese special oil enterprises will face broad market demand and usher in better opportunities.
---
Post time: Dec-25-2022